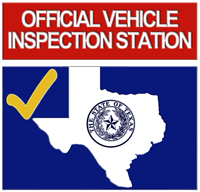 The State of Texas requires an annual State Inspection before you can renew the registration on your vehicle. Sirianni Automotive can provide you with a Texas State Inspection. The process is quick and easy. Some of the items we check during a State Inspection are lights, wipers, belts, tires, brake fluid, power steering fluid and the horn. There are a few other items like safety belts, turn signal indicators and even a few items not mentioned. Overall, the State Inspection is a simple check to make sure the car is roadworthy.
The state inspection is a checkout that was developed by the State of Texas to make sure all vehicles on the road have a minimum amount of safety requirements. This is not a full mechanical or electrical checkout, it's a very basic inspection.
Inspections are performed by appointment so please call 210-308-7424 to schedule your State Inspection today.